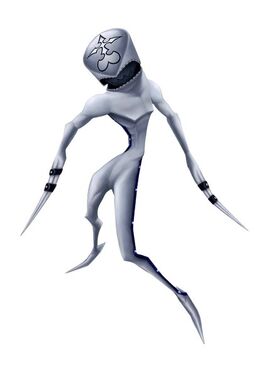 São criaturas criadas pela Organization XIII e que podem destruir mundos e consumir corações, fazendo-os desaparecer e se alimentando disso.
Os nobodies não são tão agressivos quanto os Heartless mas são mais fracos e com o uso da keyblade, o jogador pode derrota-los mais rápido.
São conhecidos por serem brancos e com detalhes metalizados e brilhantes, existem vários tipos de nobodies, até os que tomam forma de humano.
Como no caso de Naminé e Roxas, que são nobodies de Sora e de Kairi, eles se revelam para os dois em The World That Never Was (um dos mundos).
Existem muitos tipos de nobodies em Kingdom Hearts, o mais famoso se denomina Dush e o mais encontrado e perigoso é o Humanoid Nobodie, que toma a forma humana e possui poder o suficiente para fazer uso de keyblades.
Humanoid Nobodies:
Edit
Roxas
Xion
Larxene
Zexion
Xemnas
Marluxia
Axel
Xaldin
Vexen
Xigbar
Saix
Lexaeus
Luxord
Demyx
Riku /Dark Form