Conhecida como a mais conhecida e poderosa Keyblade, é usada por Sora e por Ventus em Birth be Sleep e Kingdom Hearts I e II.Sua primeira aparição foi quando os Heartless invadiram e tentaram causar a destruição das Destiny Islands, casa do Sora, que empunhou sua nova keyblade.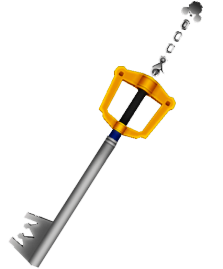 Porém existem outras diversas keyblades com um design mais agradavel e variavel, mas a Kingdom Key pode ser considerada um "clássico" das keyblades de Kingdom Hearts.
.Muitas vezes a Kingdom Key é citada em Kingdom Hearts I e II, ela também é usada pelo nobodie Roxas e por Xion.
Na verdade as keyblades de Roxas e Xion que são a "kingdom key" que é na verdade a mesma keyblade de Sora só que em vários lugares ao mesmo tempo.
E Roxas também obtém mais uma kingdom key após a absorção de Xion, mas porém a keyblade que surgiu não é a de Xion, mas é na verdade a keyblade de Ventus.A Kingodm Key é também a única keyblade que Sora usa em Kingdom Hearts Re: Chain of Memories.
É tambem uma keychain do Sora, usada por ele desde o primeiro Kingdom Hearts, assim como todas as keyblades, ela tem o poder de abrir portais para outros mundos, abrir fechaduras, portas e etc.A Kingdom Key aparece no video misterioso "The Gathering", onde Terra a retira do solo do Keyblade Graveyard.Porém a Kindgom Key nunca teve aparições ou sequer foi encontrada em todas as partes do jogo.
Aparência
Edit
Consiste em 3,5 de comprimento, idêntico a uma chave, com seus dentes e base prata, e a parte do punho é da cor ouro brilhante.Possui a keychain com o formato de "King Mickey" e também é um modelo bem clássico de keyblade.Foi criado perfeitamente para combinar com Sora, apesar de não ser só ele que tenha usado.