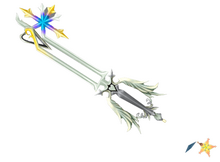 É a keyblade que representa a luz, Roxas é quem à possui, mas Sora pode obté-lá em Brave Form.É uma Keychain da keyblade do Sora.
É uma keyblade com um formato bem diferente, porém é bem poderosa, sua base é cheia de estrelas em gradiente e logo encima, tem um pingente em forma de estrela amarrado na base.
Surge em...
Edit
Kingdom Hearts, Kingdom Hearts II, Kingdom Hearts Re: Chain of Memories e Kingdom Hearts 358/2 Days.
Representa
Edit
As memórias e lembranças que Sora tem de Kairi.Representa também a parte da luz em Roxas.
Ad blocker interference detected!
Wikia is a free-to-use site that makes money from advertising. We have a modified experience for viewers using ad blockers

Wikia is not accessible if you've made further modifications. Remove the custom ad blocker rule(s) and the page will load as expected.